Ceres, Celestial Legend (Ayashi No Ceres)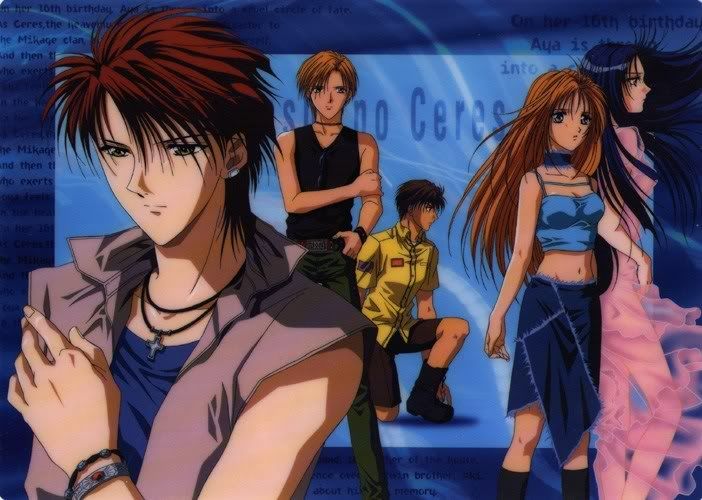 Ceres, Celestial Legend (妖しのセレス, Ayashi no Seresu?) is a fantasy shōjo manga series written by Yuu Watase. It was originally serialized in Shōjo Comic from May 1996 through March 2000. The chapters were also published by Shogakukan in fourteen collected volumes. The series focuses on Aya Mikage, who learns on her sixteenth birthday that she is the reincarnation of a celestial maiden (天女, tennyo?) named Ceres, and her twin brother Aki the reincarnation of Ceres' former husband, Mikage. Ceres begins manifesting in Aya. To try to save her brother, Aya must find Ceres' lost celestial robe (羽衣, hagoromo?), while trying to avoid being killed or captured by her own family, who wants to use Ceres's incredible powers and abilities for their own gain.
Aya Mikage and her twin brother Aki go to their grandfather's home for their sixteenth birthday unaware that it's actually a test to see if they have enough angel or celestial maiden blood in them. Aya is the reincarnation of a powerful celestial maiden called Ceres. When she transforms into Ceres, Aya obtains supernatural powers and abilities such as flight, teleportation, telepathy, incredibly strong and powerful telekinesis, premonition, projecting highly strong, powerful and destructive deep pink glowing energy blasts from her hands, creating incredibly strong and powerful impenetrable shields and barriers of pure deep pink glowing energy, and superhuman speed. According to the legend, Ceres will kill the Mikage family for revenge upon stealing her celestial robe, thus preventing her returning home to Heaven, so Aya's family attempts to kill her.
Uploader: Midnight
Format: MKV
Site: Megaupload
Type: Dual Audio
Filesize: Most are around 232 MB
Genre: Action, Family, Romance
Episode 1
Episode 2
Episode 3
Episode 4
Episode 5
Episode 6
Episode 7
Episode 8
Episode 9
Episode 10
Episode 11
Episode 12
Episode 13
Episode 14
Episode 15
Episode 16
Episode 17
Episode 18
Episode 19
Episode 20
Episode 21
Episode 22
Episode 23
Episode 24
_________________
Last.fm
|
Facebook
If you want to take my uploads and put it on other sites feel free to.